Past events in Water Stratford
Here we are recording events in the life of the village as they have occurred since this site
opened in July 2013, together with a few major occasions that we recall from before then.
1st March 2021: 
Villagers lined the street to pay their respects to a long-standing, respected and well-liked resident, Lyn Randall, as his funeral procession made its way to church for a service and burial.
8th January 2021: 

We learnt with sadness of the deaths of two people with long association with our village.  
Tina Sikes, great granddaughter of John Sikes of Water Stratford House and granddaughter of 'Granny' Sikes who was our churchwarden and organist for many years, died in Dorset on Christmas Eve.  She was the last member of the Sikes family to be born at Water Stratford House.  In memory of her grandmother 
and of her own baptism and childhood here, 
she produced the harvest banner that hangs above the organ.  Her childhood memories added much to the village history on this website.  
Revd Chris Carter was a non-stipendiary priest from Tingewick who took many services for us and was a stalwart of the benefice choir from its outset. He played a leading role in the appointment of Revd Liz Simpson and gave her great support.  He was also prominent in Tingewick activities.
1
8th December 2020:  On the day that Buckinghamshire's entrance to Tier 4 was announced we were still able to hold our carol service, albeit in a very restricted form.  At 6pm a congregation gathered in church for prayers, poems and Bible readings, plus a few carols that were played but not sung.  At 6.30pm they ventured into the churchyard where others joined them for three sung carols, socially-distanced, of course.  The carol singing around the village which was planned for the 21st had to be cancelled.  It will be strange not to hold our usual lively Christmas Day service but we can only hope it will be possible next year.  In the meantime a Christmas message from our Rector can be found HERE.
8th November 2020:  The second Covid lockdown prevented us from holding a Remembrance service but the minute bell was rung and the central Act of Remembrance was read inside a locked church, and many villagers observed the two-minute silence on their doorsteps.
13th/18th October 2020:  Revd 
Paula Smith was licensed as our Rector in the Church of St Edward the Confessor at Shalstone on 13
th
October, which appropriately is the day when that saint is celebrated.  She took up her care of our parishes from that date and five days later led her first service in the benefice with the Water Stratford Harvest Festival.
23rd August 2020:  We were pleased to be able to tell everyone that Revd Paula Smith, currently the curate in Deddington parish, had been selected to be the new Rector of the West Buckingham Benefice.
10th/13th August 2020:  
The second week of August was a sad one for the village: very unusually, two funerals and burials took place at St Giles within three days, the closest interval possible under pandemic restrictions, which also meant they had to be private occasions.  On 10
th
August it was moving to see villagers line the street to pay their respects to a long-standing, respected and well-liked resident, Bill Booth, as his funeral procession made its way to church.  The following Thursday saw the funeral of Stephen Price, a former resident remembered for his friendly good humour, and still part of Water Stratford's extended family.
17th June 2020:  
Water Stratford appeared on national television when the BBC's
Homes under the Hammer
visited the former water booster station at the end of the village of "lots of charming little homes off the main road ... in the fresh country air of North Bucks." 
 "You 
can't beat the location," announced the programme.  The new owners showed
courage and
optimism in buying the property without prior planning permission and overseeing the removal of the 
industrial equipment before extending the building outward and upward to create a family home.
8th May 2020:  
Water Stratford commemorated VE Day with a 'Stay at Home' street party. Resplendent in bunting, with newly painted railings and bathed in sunshine, the village looked wonderful.  At 11 o'clock villagers held two minutes silence from their doorsteps in memory and tribute to those who sacrificed so much for us all.  Passing cyclists and motorists stopped to join the act of commemoration.  The day progressed with afternoon tea, evening drinks and culminated in a sing-a- long of
We'll Meet Again
and other wartime favourites.  It was good to see that despite such difficult times, the village was full of smiling faces, good humour and pleasure at being able to meet up at a distance, and the opportunity to share the significance of the day.  Earlier in the day, face coverings had been distributed to villagers, thanks to village teamwork, the generous donation of resources and especially the queen sewing bees whose dedicated industry produced over seventy face coverings.
(Thanks to Deborah for report.)
1st May 2020:  The white railings on the eastern side of the road at the south end of the village were originally, we believe, to allow sheep and cattle to be driven along the road without them fouling or blocking the pavement.  They were breached around 1980 to create a driveway into three new houses but have stayed unchanged since.  Periodically they have been repainted, usually by village teenagers in search of extra pocket money!  This time Susan saw an opportunity to help a local tradesman whose indoor work had diminished due to the pandemic.  They now look very smart once more.
20th April 2020:  As a farewell gift to St Giles church, Eleanor made a pair of collection pouches.  They are beautifully embroidered in the liturgical colours of white, red, green, purple and gold and with a leafy detail from the stained glass in the east window.  Our current pouches have long been showing the effects of age and mice, so these will be a spectacular improvement.  Thank you, Eleanor.  
Another collection receptacle was a wooden box inscribed WP 1711 CW - presumably the churchwarden in 1711 had the initials WP.  This had to be sent to the Diocese for safekeeping many years ago, but Chris's father, Andrew, had a replica made.  We look forward to blessing and using both this and Eleanor's pouches when we can have normal services again.
1st April 2020:  Our district and county councils ceased to exist and were replaced with a unitary authority called Buckinghamshire Council.  What we are supposed to have in common with such far-off places as Amersham and Marlow is a matter known only to the politicians who imposed this.
March 2020:  The village awaits the consequences of Covid-19 with trepidation - information relating to the village and church will be posted HERE as necessary.
10th February 2020:  
Storm Ciara 
blew down the church notice-board, but it was re-erected within days and bolted to a custom-
made galvanized metal support thanks to Chris.
February 2020:  
Having supplied
 the lovely Christmas tree in our church, Chris 
has now turned it into a cross, as a reminder that the Babe of Bethlehem became the Man of Calvary.  It is 
hanging on the wall opposite the south door, a striking sight as you enter the church, and if you look 
carefully you can still see its origins as a fir tree.
7th February 2020:
A friendly get-together for a quiz at The Old School
 well supported 
with 46 villagers. A complimentary first drink set the tone for a successful evening, difficult questions, 
many with a village theme. How many dogs in the village (17), how far from one Water Stratford village 
sign to the other (788 yards), the first flower in the churchyard (aconite).  
Howes' fish and chip van completed the evening with beautiful fresh fish and chips, saving the Parish 
Meeting any food preparation!  
Set against a typical February evening, wet, drizzle and cold, it was a welcome change getting together in such 
convivial company and surroundings. 
(Thanks to Susan for report.)
22nd/25th December 2019:
  Christmas was, as usual, celebrated happily at St Giles, with an evening Carol Service
 then a morning Family Worship on Christmas Day.  It was a treat to sing carols,
hear lovely readings, enjoy refreshments and conversation and have some sense of Emmanuel – God with 
us – in a well cleaned and decorated church.  Villagers were joined by extended family, others from the 
benefice and members of Buckingham Evangelical Church, all helping to make the worship celebratory 
and increase the volume of the singing!  Memories remain of two young brothers reading quite a 
demanding poem beautifully, and of their little sister being lifted up to light the tall Christmas Day candle 
on the Advent Ring, looking like a happy flying angel as she did so.
20th December 2019:  
We sadly said goodbye to our oldest resident, who died at the great age of ninety-eight.  Gordon 
Hutt had lived in Water Stratford for almost thirty years and in and around Tingewick for most of his life.  He
 was a genial, reassuring presence in the village, pottering in his beautiful garden or 
stopping for a friendly and interesting conversation.  He and his late wife Phyllis were half of the four 
'regulars' who kept Chackmore Methodist Chapel going for many years, raising the roof with their singing 
despite their small number.  He 
bore the loss of his beloved wife of seventy-one years, although he missed her dearly, and had 
cared for her for many years, with stoicism.  Never complaining and always thankful that he was able to 
take on most of the housekeeping duties as her mobility slowly diminished, he was lovingly supported by 
their daughter.
We, at St Giles, have been delighted to have father and daughter in our congregation, and Mr Hutt would 
have been honoured and humbled that so many people came together to pay their respects at the Service 
of Thanksgiving for his long and remarkable life.  
He will be missed and remembered by so many, but more especially by the family he so loved.
November 2019:   
The 
Horticultural Society held its
 usual Table Decoration and Christmas Wreath making. This year there 
were two sessions, both on a Saturday, one in the morning and one in the afternoon. Both had a 
good number attending, eager to make one of the above. Once again, Elaine showed everyone how 
to make the decoration and the wreath and all had a good time making their own creation whilst 
they all listened to Christmas songs being played in the background just to get us into the Christmas 
spirit. All were extremely grateful for the mulled wine and mince pies which were served and the 
end results were magnificent. 
(Thanks to Teresa for report.)
10th November 2019:  
Chris prepared and led a thoughtful Remembrance Day service and gave our community the 
chance to observe this important occasion one hundred years on from the first Remembrance 
Service.
September 2019:  
The 
Horticultural Society held a 
plant swap, where plants and other gardening items, that had been 
brought to Tingewick Village Hall by enthusiastic gardeners, were swapped for others. Plants could 
also be purchased. Many were eager to get the best of the plants and went away with possibly 
more than they came with! This event has grown as the years have gone by and there is a large 
following that come along every year. 
(Thanks to Teresa for report.)
15th September 2019:  Water Stratford's fleet of ducks made a welcome return to the Great Ouse.
About 450 ducks had been sponsored and they raced down the river in four heats, with the first ten in each heat progressing to a final.  The first three ducks won prizes for their sponsors.  There were several other attractions for the many people who gathered to picnic and watch the races.  The weather was perfect and the afternoon ended with races and a tug-of-war for the many children who were present. (Thanks to Nicky for organising and Barbara for the photos.)
24
th
 August 2019:  The Horticultural Society held its 95th Annual Summer Show.  It was a 
record year with 45 individual exhibitors producing 460 entries between them across the 
various classes.  This was more exhibitors and entries than ever before.  In addition there 
were 85 entries in the junior classes from local children.  
On a hot summer's day lots of people from the local area and further afield came to view 
the exhibits.  With classes covering flowers, vegetables and fruit, handicrafts,
cakes and 
jams, flower arranging and photography there was much to see and 
admire.  Visitors 
could also see a display of old horticultural tools, peruse a variety of stalls, have a go on 
the tombola and raffle and enjoy delicious tea, coffee and home made cakes.  The Show 
closed with the presentation of Cups and Best Exhibit Certificates to the worthy winners 
by the Society's President, Richard. 
(Thanks to Barbara for report & photos.)
19th August 2019:  We said farewell to the 
magnificent hornbeam on the northern edge of the churchyard, considered by local experts to be one of the finest specimens in North Bucks.  
Sadly a succession of dry summers killed it and it became dangerous, so
had to be felled at enormous financial as well as environmental cost. 
Joseph Bosworth
 and his second wife are buried near its base and as its girth suggests that it is between 100 and 200 years old, it may well have been planted to commemorate the death of Anne Margaret Bosworth in 1863 or Joseph himself in 1876.  
21st July 2019:  Revd Liz Simpson has been our parish priest for sixteen years, the longest tenure since Revd Louis Goddard retired in 1921.  Liz signed off in characteristically imaginative fashion with a bread-making session as part of our Lammas service.  She has been a joy to work with and we shall miss her greatly but, as she is only moving a few miles west to a parish near Banbury, we hope to continue to see her.  After the service we toasted her with sparkling wine and a thank-you cake and presented her with a card and gift.
15th July 2019:
  The annual Summer Garden Competition was judged by the head gardener at Buckingham Garden Centre.  There were 12 entrants in total, with an equal split between Water Stratford and Tingewick. The winning gardens were also equally split, with 3 winning in Tingewick and 3 in Water Stratford.  Many congratulations go to Sarah, Barbara and Steve, and Jean.  The judge said he thoroughly enjoyed looking at all the gardens and that each entrant should be justly proud of themselves.  Thank you to everybody for taking part.  
(Thanks to Amanda for report)
12th July 2019:  With the centenary of the sale of the Water Stratford estate to its tenants falling on a Friday, what could be more certain than that the village would have a celebratory party.  Maps and catalogues concerning the sale were displayed around the Old School and Howard read from the report in the Buckingham Advertiser of 19th July 1919.  It was good to hear that Colonel Parker had expressed a wish that his tenants should be the buyers and had set the reserves fairly low to aid this.  Many party-goers had dressed in period costume and a vintage car gave joy-rides around the village.  Later there was a raffle and a sing-song with Martin on the piano.  It was good to see so many younger villagers as organisers as well as participants.  Inevitably the evening was mostly devoted to eating and drinking and, thanks to all those who provided such a fine spread, the celebrations continued until at least midnight.
19th May 2019:  The weather was ideal for our annual Rogation service and walk.  Starting in the churchyard, a group of adults, children and dogs sauntered to the back lane across fields that we
probably hadn't traversed since Town Farm ceased to be a farm, thus saving a lot of road walking.  There were still plenty of sheep around to give us puzzled stares and we obliged them with an appropriate bible reading.  On reaching the back lane the children collected sticks and distributed them amongst us, so that once we reached the bridge we were able to indulge in a game of Pooh Sticks - a first for our walks.  We returned the way we had come and, 
thanks to George and Nicky,
ended our walk in their garden with delicious drinks and cakes.
(Thanks to Revd Liz for photo.)
12th
April 2019:
A new event for the Tingewick and Water Stratford Hortic
ultural Society was held at Tingewick Village Hall
.  The event began with Elaine giving a demonstration in the art of making a wreath for Easter, with both flowers and foliage, and also demonstrating a table decoration, which could include candles.  Easter bunnies, chicks, and a variety of other Easter decorations could be added too. The seventeen ladies that took part, then chose to make one or the other. The end result was amazing. Wine and nibbles were available as was the usual raffle.  A number of really lovely comments were made about the event by the ladies that attended, so it is hoped that this event will become a permanent feature in our calendar.
(Thanks to Teresa for report & photo.)
2
nd
March 2019:
Following the Annual General Meeting Tingewick & Water Stratford Horticultural Society held another very successful cheese and wine tasting event. Forty-nine people had the
opportunity to taste a total of eight wines, a mixture of sparkling, red, white and sweet, from various regions of France. Local wine expert Ron Gleeson described the characteristics of each wine and kept everyone entertained with humorous anecdotes. Each wine was accompanied by a carefully selected hard or soft French cheese with the final sweet wine accompanied by a delicious assortment of mouthwatering French desserts. A raffle at the end of the evening meant six lucky people were able to take home a bottle of wine to enjoy at their leisure.
(Thanks to Barbara for report & photo.)
December 2018:  There were no less than four Christmas services in eleven days in the village this year.  On the 15th a benefice 'Starlight Nativity' was held at Rectory Farm.  The torrential rain failed to spoil the occasion, with the planned journey through the farm being replaced by a magical service in the lambing barn which the sheep seemed to enjoy almost as much as the humans.  The Young Farmers came next, holding their Carol Service in St Giles on the 19th.  The village Carol Service took place on the evening of the 23rd, with traditional carols and readings being followed by almost equally traditional mince pies and mulled wine, not to mention some delicious chocolates.  Finally children formed over a quarter of the congregation for our Christmas morning service during which they carried the nativity figures to the crib and stood around it to sing 'Away in a manger'.  Our thanks to Revd Liz and all who contributed to the services throughout the year.
11th November 2018:  
A large number of parishioners came together on Remembrance
Sunday
to mark the Centenary of the Armistice.  During a respectful service, we were taken back to the Great War through the words of two poets killed in that conflict.  We then heard a moving poem dedicated to one of our war-dead by his great-nephew, reflecting on their shared experience of farming and on a visit to his grave in Flanders.
25th August 2018:  
There was much to see at this year's Summer Show.  Despite the hot, dry summer those 
with green fingers had managed to produce plate-sized dahlias, overflowing
hanging 
baskets, pots filled with a variety of flowers and foliage as well as lovely scented roses.  
Those who like to grow their own displayed all sorts of vegetables and fruits from 
marrows, onions and beetroot to tomatoes, medlars and raspberries.  Many exhibitors 
showed their artistic side with beautiful floral arrangements and nearly a hundred 
photographs were on display.  Bakers made delicious cakes, jams and chutneys whilst 
those who enjoy handicrafts showed off their varied skills by making Christmas 
decorations, cushions, table runners and so much more.  Children at the three local 
schools made over ninety drawings, paintings and collages of yellow and orange flowers.  
All in all a very colourful display.  After admiring the exhibits visitors perused the stalls, 
entered the raffle, had a go on the tombola and finished off the afternoon with tea or 
coffee and delicious homemade cakes.  The afternoon ended with the presentation of Cups 
and Best Exhibit Certificates by the President, Richard Fenemore, to the worthy winners.  
Many thanks to everyone for all their help and support and to all those who came to look 
around the Show in the afternoon.  It is much appreciated.  
(Thanks to Barbara for report & photo.)
15th July 2018: 
We held our first Lammas Bread and Beer service and thus completed our goal of celebrating all four of the church's rural festivals.  On another beautiful summer's day we 
reflected on the central place that bread takes in Christian teaching and
 sampled three different loaves (one home-baked by the Rector) and two different beers.
7th April 2018:  
Tingewick & Water Stratford Horticultural Society held its 14th Annual Spring Show.  Despite a prolonged period of cold weather exhibitors managed to cajole a variety of daffodils, tulips, hyacinths and other spring flowers into bloom providing a colourful display for visitors to the Show.  Exhibitors also displayed their skills in the flower arranging, photography, domestic and handicraft classes, and children attending the local schools produced over eighty beautiful pictures of a butterfly.  Stalls, a raffle and refreshments with delicious home-made cakes were also available before the Show ended with the presentation of Cups and Certificates to the winners in each category.  
(Thanks to Barbara for report & photo.)
December 2017: 

The festive season at St Giles started early this year with the Benefice Choir singing Songs for Advent on the first Sunday of the month. 
A few days later we were pleased to effect a lo
ng overdue reunion. A gravestone must have fallen many years ago and moved to lean against the wall of the tower. Close inspection revealed it to be that of Ann Morris, who lived at Town Farm and died in 1837 aged 91. We managed to 'walk' it to the south side of the church with the intention of placing it on the grave of her husband John, who farmed here until his death in 1821. But we then discovered that next to John's grave there was a footstone that had no corresponding headstone, so we were able to lay
the heavy stone
on what we are sure is Ann's own grave.
On the third Sunday we enjoyed a traditional service of readings and carols, followed by mulled wine and delicious mince pies made by two of the y
oungest members of the congregation, while
on Christmas Day there was a full church (over 60 people) for the Benefice Christmas Communion service.
1st December 2017:  
There was a full house for the Horticultural Society's annual Christmas Wreath and Table Decoration workshop held
in Tingewick Village Hall. Elaine Rigg, the regular tutor,
demonstrated how to produce both items starting with various types of greenery and then adding further colour and structure with the use of candles, bows, berries, cones, dried fruits and other decorations. Everyone then had the opportunity to make their own wreath or table decoration with advice where needed from Elaine resulting in some beautiful and colourful creations. With Christmas carols and songs playing in the background, mulled wine and mince pies on offer and the chance to win various raffle prizes it was a very enjoyable start to the festive season.
(Thanks to Barbara for report & photo.)
17th November 2017:  
At a 'Chilli and Sol' evening the Old School looked so characterful with colourful rugs hanging on the walls, tables adorned with the Mexican flag tricolor of green, white and red, and Rob behind the bar at the ready with the cocktail shaker to create margaritas and tequila sunrises!  A delicious meal of chilli (varying heats on offer to suit all tastes!) with a wide range of accompaniments, followed by ice-cream, was enjoyed by the 28 villagers who gathered together for another very social and enjoyable evening.  Although this was not a specific fundraising evening, £159 was made for Old School funds. Thank you to everyone involved.  
(Thanks to Sarah for report.)
23rd September 2017:
Tingewick & Water Stratford Horticultural Society held its annual Garde
ners Swap Day and once ag
ain it was a great success.  Lots of 
interesting plants, seeds, magazines, books and other gardening paraphernalia 
were brought along and lots of swaps took place. Ther
e was also the opportunity to buy plants from a charity plan
t stall, have a go on the tombola 
and enjoy tea and homemade cake to round off the afternoon nicely.  Many 
thanks to all our visitors and swappers from Tingewick, Water Stratford and 
further afield.  It was great to see some of the regular swappers return and also 
to see some new faces. 
(Thanks to Barbara for report & photo.)
26th August 2017:  
Tingewick & Water Stratford Horticultural Society had its best Summer Show in recent times with a huge increase in the number of entrants and exhibits.  39 entrants
produced a staggering 480 exhibits in the various classes, which included flowers, vegetables, handicrafts, cakes, photographs and flower arrangements.  Children from the local school and pre-school also entered drawings, collages and cards to celebrate the Queen's Sapphire Jubilee.  With more stalls than in previous years visitors to the Show were able to indulge in some early Christmas shopping.  Pottery, knitwear, jewellery, quilts, candles, honey, stationery, plants and books were amongst the many items on display.  A demonstration of how to spin yarn on a spinning wheel caught people's attention and for the first time visitors to the Show were asked to judge the best scented rose.  With a raffle, tombola and children's lucky dip there was lots to see and do before enjoying a relaxing cup of tea or coffee with delicious home made cakes. 
(Thanks to Barbara for report & photo.)
13th July 2017:  
We learned of the death of John Seaton, aged 86.  With his death following that of Helen Hilsdon, our church has lost its two greatest friends in living memory.  They were churchwardens together for many years but their contributions touched every part of village life.  After he left the village John could be found devoting the same care to Barton Hartshorn churchyard as he had devoted to ours for so long.  Thank you, John.
10th July 2017:
  Some years the weather and the churchyard mowing cycle combine to give a wonderful display of a little orange flower which we try to mow round until it has seeded.  It is a variety
of hawkbit or hawkweed and one of its folk names is
Fox-and-Cubs
, though a vixen would be unlikely to achieve quite such a vivid orange.  Chris knows it by the extraordinary name of
Grim-the-Collier
!  The black hairs on the plant were thought to resemble coal dust on a beard of a miner or coalman and there was a play of 1662 called
Grim the Collier of Croydon
about a despised character in folklore, a grimy coal merchant who sold substandard or short-weight fuel.  Other names include
Devil's Paintbrush, Orange Hawkbit
and
Tawny Hawkbit
.  It is hard to imagine such a lovely flower being described as a 'pernicious weed' but in some parts of Australasia and North America it's regarded as a serious problem, smothering other plants and tainting the hay. 
16th/18th June 2017:  We celebrated the memory of Jo Cox MP in fine style, with a Great Get-Together on the Friday evening and Pimms and Hymns in the churchyard on Sunday.  Around forty people, more than half the village, gathered in Gerard and Leah's garden for drinks and nibbles on a perfect summer's evening.  Planning a service in the churchyard 'weather permitting' usually means worrying about rain but in the event it was sunstroke we had to worry about.  Fortunately all seventeen adults and four children lasted out the service, the text of which is shown here.  The readings celebrated midsummer, while the prayers focused on Jo's inspiration, recent tragedies in London and Manchester, and community spirit.  Thanks to all involved in putting on these events, especially Guy and Catriona who were responsible for much of the catering at both.
21st May 2017:  Fourteen adults, three children and six dogs accompanied the Rector on our annual Rogation walk.  The service did not have an auspicious start when we discovered the church had no electricity but a quick trip home by Liz for her guitar saved the day.  Our walk was less demanding than in some years - even the septuagenarian managed it without difficulty - but gave us a chance to appreciate the new steps onto the railway embankment and enjoy the greatly improved walk along it to the river.  The sun shone on our endeavours and we were rewarded with drinks in the Rectory garden afterwards, thanks to Sarah and Chris.
4th May 2017:  Many years of village history disappeared when BT removed our only public telephone box.
9th April 2017:  The churchyard
 is always a magical place in spring, with aconites and snowdrops being succeeded by hosts of wild daffodils, then primroses, bluebells and celandines.  This year the primroses are sensational.  This spring has also seen two surprise ornithological appearances in the parish, a raven and an egret.
8th April 2017:  
Despite mild weather meaning Spring came early to gardens this year, green-fingered exhibitors at 
the Society's annual Spring Show still managed to enter a good variety of 
daffodils, tulips,
hyacinths and polyanthus.  Added to these were pots and baskets of mixed spring 
planting, pansies, hellebores, flower arrangements and decorated Easter bonnets.  Altogether it was 
a very colourful display.  Local school children produced around seventy amazing paintings and 
drawings of an Easter egg whilst photographers displayed almost sixty beautiful images of 
landscapes, weather, spring time, sunsets and sunrises.  Visitors to the Show were also able to 
peruse stalls, have a go on the raffle and enjoy a refreshing cup of tea and homemade cakes.  Many 
thanks must go to all the judges and to everyone who gave their time to help on the day.  C
ups and certificates were presented to the winners of the various classes by the S
ociety President.  Winners i
n the junior classes received medals on ribbons. 
(Thanks to Barbara for report & photo.)
31st March 2017:  
Tingewick & Water Stratford Horticultural 
Society's
cheese and wine evening held in Tingewick Village Hall was very well 
attended, with a local wine expert giving a talk on eight wines, a
mix of red and white, from across 
France accompanied by matching cheeses.  Everyone had a wonderful time getting a few tips and 
sampling the produce.  Each wine selected for its particular characteristics, sweetness, aci
dity and tex
ture from the great wine growing regions of France such as the Loire Valley, Bordeaux and so on 
was matched carefully with French hard and soft cheeses from floury goats, soft and pungent 
Camembert to strong Roquefort blue. 
(Thanks to Barbara for report & photo.)
26th March 2017:  
The number of children in the village has started to revive after a long decline and we were pleased that several of them played a part in our well-attended Mothering Sunday service, the text of which can be found
here
.  Sarah had made beautiful posies for all the mothers present and Mike gave a talk on one particular Water Stratford mother,
Ethel Frances West (née Goddard)
.
17th March 2017:  The Old School once again became the Water Stratford Arms, but this time with an Irish accent to befit St Patrick's Day.
18th/25th December 2016:  
Christmas 2016 was well celebrated at St Giles: both the Carol Service on the preceding Sunday 
evening and the Christmas morning service were well attended, enabling good singing and a festive 
atmosphere. The Carol Service was as usual a happy village get-together, extended by refreshments 
afterwards, while on Christmas Day we were delighted to welcome numerous visitors to swell our 
congregation. People gave generously to the Christmas collections, as a result of which a donation 
was sent to Crisis at Christmas, the remainder being needed to keep the church running.
9th December 2016: Twenty-six people enjoyed the Horticultural Society's Christmas Decoration Workshop.  As in previous years Elaine Rigg, the regular tutor, demonstrated how to make a Christmas
Wreath with different types of greenery, a ribbon bow and a variety of decorations.  However, for the first time members and friends this year also saw Elaine demonstrate how to make a beautiful table centrepiece using mainly garden foliage, flowers and candles.  After the demonstration everyone then created their own wreath or table decoration to be displayed at home.  Mulled wine and mince pies served throughout the evening added to the enjoyment and everyone had the chance to win a prize in the raffle.
(Thanks to Barbara for report & photo.)
13th November 2016:  Our Remembrance Service drew a record congregation for recent years, with twenty-one adults and five children.

  

After the traditional Act of Remembrance for the six men on our war memorial, we heard readings about the Battle of Jutland and the Battle of the Somme.  In our prayers we particularly remembered the people of Aleppo and Mosul.  
The text of the service is shown 
here
.
16th October 2016:  This year's harvest thanksgiving was notable for being the fi
rst occasion that our 'new' organ was played in a service, thanks to Sara.  Sixteen adults and four children heard a sermon and prayers based on the rainbow accompanied by Revd Liz's impressive visual aids.
24th September 2016:  The Horticultural Society's Gardeners Swap Day was once again a great
success.  We had lots of interesting plants, seeds, magazines and books brought along and lots of swaps took place. There was also the opportunity to buy plants from Jackie and Sally's charity plant stall.  A cup of tea/coffee and a slice of cake rounded the afternoon off nicely.  Thank you to all our visitors and swappers from Tingewick, Water Stratford and further afield. (Thanks to Barbara for report & photo.)




18th September 2016:  Our service of Holy Communion saw several innovations.  It commenced with two dedications: a replacement organ (the previous one had been making very odd noises) and a harvest-themed quilted panel above it.  The organ was kindly given by Lenborough benefice (it had languished in Hillesden church for many years) and the panel was made and donated by someone who lived here as a child and whose grandmother used to be our organist and churchwarden.  Then our final hymn was the first performance here of the hymn to St Giles written by Sara in 2014.
th August 2016:  
Thunder, lightning and torrential rain did not deter visitors to Tingewick & Water Stratford Horticultural Society's 92nd Annual Summer Show.  With many new exhibitors this year there
was plenty to see and admire.  From giant dahlias to delicate roses and big marrows to tomatoes on the vine.  From beautiful flower arrangements to handmade scarecrows and Victoria sponges to striking photographs there really was something for everyone.  Visitors were also able to peruse handicraft, honey, card, book and plant stalls and see a display of old agricultural machinery and tools.  A raffle and tombola added to the enjoyment and then visitors could relax with tea and homemade cakes.  Many thanks must go to all the judges and all those who helped in so many ways to make this another successful show.  
(Thanks to Barbara for report & photo.)
19th June 2016:  Our June service always coincides with Fathers Day and is close to Midsummer Day so this year we held a Pimms and Hymns service in the churchyard.  We sang five hymns, heard several poems and psalms, and gave thanks for the natural world and the joys of summer.  The Pimms tasted all the better for the sun which just about kept shining until the end.
17th June 2016:  24 villagers gathered at the Old School racecourse to celebrate the Queen's 90th birthday with a race night.  Ascot hats, Union Jack bunting, plus the most stunning collection of copies of original paintings of the Royal family and racehorses decorated the room.  The names of the four races had royal connections, and names of members of the Royal family were used for all the horses, such as Philip out of Big Mouth by Gaffes Galore and Kate out of Beauty by Commoner.  In the Old Monarchs' handicap race we had Henry VIII out of Sheer Exhaustion by Six Wives and Victoria out of Desperately depressed by Death of Albert!  The horses were auctioned off and jockeys appointed by the owners, while the punters headed to the tote.  Following the throwing of two dice to indicate which horse and how many squares it could move, the jockeys holding their wooden horse set off down the track, cheered on by the people in the stands!  Someone likened the races to human snakes and ladders!  The lucky owner of the winning horse received a prize and the successful punters collected their winnings.  The evening raised £520.45 for Old School funds. (Thanks to Sarah for report.)
20th May 2016:  The Old School became the Water Stratford Arms for the evening, with around forty people, half the village, coming together to drink and chat.  Despite it being billed as a drop-in event, many stayed until 'closing time', showing our community's enthusiasm for meeting their neighbours - and for alcohol!
15th May 2016:  Our annual Rogation walk drew thirteen adults, four children and four dogs.  In addition to hymns, bible readings and prayers, we heard poems by Alice Crosland, Thomas Hardy and W H Davies.  Chris planned and led the service and read his newly-written poem The Rectory Oak next to that magnificent tree, which is at least 435 years old.
24th April 2016:  Congratulations to Guy, our churchwarden, who ran his first London Marathon in 4 hours 17 minutes.  He ran in aid of The Puzzle Centre, a local pre-school for children with autism.
9th April 2016: Tingewick & Water Stratford Horticultural Society's 12th Annual Spring Show produced a kaleidoscope of colour with a lovely display of spring flowers.  Despite the recent cold
 spell exhibitors entered a dazzling array of daffodils, tulips, hyacinths, primulas, pansies and hellebores.  Florists showed their skills with arrangements suitable to celebrate the Queen's 90th birthday and others in the shape of a cake.  Those who enjoy getting behind the camera lens entered over fifty exhibits in the photographic classes whilst local school children produced almost seventy exhibits including paintings of a spring garden, decorated paper plates and face masks all with a flower design.  Those children coming 1st, 2nd and 3rd in the junior classes were awarded medals on ribbons.  Visitors to the show were able to purchase plants, cards, books and handicrafts from the various stalls, take part in a raffle and finish off with a relaxing cup of tea and delicious homemade cakes.  Many thanks must go to all the judges, helpers and exhibitors without whom the Show would not be possible. (Thanks to Barbara for report & photo.)
17th March 201
6:  We learned of th
e death of 
Paul Daniels, magician and quiz-show host, who owned a house here in the 1970s and 80s.  He opened our village fete in 1984 and judged its children's fancy-dress competition.
2
nd
March 2016:
The village was temporarily cut off at its southern end in spectacular fash
ion when a tree was blown over and blocked the road (the church is visible through the trees). 
(Thanks to Teresa for th
e photo.)
13
th
February 2016:
A record eighty people attended the Horticultural Society quiz and supper night held at Tingewick Village Hall.  Many thanks to Terry and Carole who again acted as quizmasters with questions on a wide variety of subjects.  When the correct answers were read out there were whoops of delight and cries of YES from some quarters whilst the sound of groaning could be heard elsewhere. Charles and Sheila did a grand job tending the licensed bar whilst Rosemary and April were kept busy selling tickets for the raffle.  Linda and Naina deserve a special mention for slaving over hot stoves to supply an absolutely delicious meal of meat or vegetable lasagne, chicken or vegetable curry, rice and lentils, salad and baguette.  With two teams achieving the same marks overall plus the same marks in their Joker rounds it was impossible to split them so for the first time we had joint winners.  Each winning team was presented with six bottles of wine.  Many thanks to everyone who helped and to all those who attended for making it such a successful evening.  
(Thanks to Barbara for report.)
20
th
/25
th
December 2015:
 Christmas was celebrated at St Giles with an evening service of lessons and carols on the 20
th
and village worship on Christmas morning.  Both contained interesting
innovations.  Thanks to Chris we have a wonderful set of candle holders, but candlelight alone is insufficient to read by.  
The people who walked in darkness have seen a great
light
was read this year from the entrance to the lit vestry with nothing but candles lighting the rest of the church: this was very effective and could be used more often in future.  The collection of £130.86 was sent to Shelter. On Christmas Day we heard part of a Christmas letter from Revd John Hudson who acted as our priest for several
years and is still fondly remembered. We sang John Mason's carol
Away, dark thoughts; awake, my joy
to the tune of
O little town of Bethlehem
. It is likely that this was the first time it had been sung for over 300 years and that St Giles is the only church in which it has ever been sung.
(Thanks to Revd Liz for photo.)
8th November 2015:
  At this year's Remembrance service (the full text of the service is shown
here
) we marked several anniversaries.  It is one hundred years since the deaths of
Herbert George Cadd
, the first to die of the men listed on our
war memorial
, and the poet Rupert Brooke. We heard Bert Cadd's life-story and Brooke's famous poem,
The Soldier
.  The 75th anniversary of the Battle of Britain was marked with a poem by John Gillespie Magee, a pilot who died in 1941 aged 19.  He had been inspired by Brooke and won a poetry prize at Rugby School that had been won by Brooke 34 years previously. 
A reading about Sir Nicholas Winton, one of the first pupils at Stowe School, reminded us of the 70th anniversary of the liberation of the concentration camps, and finally we marked the 70th anniversary of the end of the Second World War.  A visitor to last year's Remembrance Service brought with her service sheets used to celebrate this in 1945, both the official national service and the adaptation used at St Giles.  They are fascinating records of the mood at the time and copies of these were available to look at.
10th October 2015:  
The Horticultural Society held its first Plant & Seed Swap in Tingewick Village Hall.  The event was very well supported with many gardeners from the 
surrounding area bringing a variety of plants, seeds, books, magazines, pots and other gardening related items to swap.  Others
who could not come on the day kindly donated plants and seeds in advance. With so many plants and other items to choose from lots of swaps took place.  Those coming along who were unable to bring anything could also make purchases either from the swap items or from Jackie and Sally's plant stall.  As refreshments were also available many people stayed for quite some time looking around, taking a cake break and then having another look as more items were brought in throughout the afternoon.  Comments received suggest that the plant and seed swap was considered a very good idea so it is hoped the event can be repeated at some future date.
(Thanks to Barbara for report & photo.)
20th September 2015:  Tingewick & Water Stratford Horticultural Society members and friends paid a very interesting  afternoon visit to Upton House and Gardens near Banbury. To coincide with the 70th Anniversary of VE Day, rooms at Upton House this summer have been set up as they were during the second World War.  The owners of Upton House, the Bearsted family, moved out of their country retreat and the family's merchant bank M. Samuel & Co. moved in for the duration to protect staff and assets from the threat of air raids in London.
Rooms are filled with desks, old style typewriters, telep
hones and other office equipment used by staff at that time.  Gas masks and information on how to use them, plus other wartime notices can be seen.  Examples of wartime wedding dresses are on display together with simple ideas on how to make everyday dresses more attractive.  Photographs, letters, uniforms and personal mementoes add to the story.  Outside is a wartime mobile cinema tent and Anderson Shelter.  Visitors can also learn about the war work of Lord and Lady Bearsted.  Lord Bearsted's bank funded all manner of 
Government projects and Lady Bearsted helped run and finance mobile canteens in the 
East End of London.  Further information explained how valuable paintings from the 
house were hidden away in a Welsh slat
e quarry for safe keeping.
After looking arou
nd the house a stroll around the gardens followed.  The flower and vegetable gardens cannot be seen from the house and it is a lovely surprise on reaching the far end of the lawn to suddenly find still colourful terraced gardens stretching down to the lake below.  Before leaving there was time to visit the restaurant where luckily a large notice advised 
that cakes are no longer rationed!  
(Thanks to Barbara for report.)
4th September 2015:  For one night only, Acqua Stratford Ristorante Italia opened its doors at the Old School to 
the village cognoscenti, many of whom were dressed in Italian style, including: mysterious 
and glamorous masked Venetians, mafia gangsters, gondoliers, pizza delivery girls, outfits in 
the colours of the Italian flag and even the Pope!  A three course Italian meal was served 
with 
a delicious Lasagne Villagio cooked by the village Signore – special thanks to the team of 
Catriona, Louise, Leah, Sara, Liz, Deborah and Judy.  The atmosphere buzzed with laughter 
and an enjoyable time appeared to be had by all.
A big thank you to everyone who helped out in so many different ways including: art work, 
display of a vintage yellow Fiat, procurers of fine Italian wine, drinks waiters, Pat's IT 
services, decorating and clearing up the hall, and an impressive washing-up team who 
willingly 'set to' on the night.  The village were extremely generous, both financially and in 
spirit.  An amazing £669.25 was raised to support the maintenance and upkeep of the Old 
School.  (Thanks to Deborah & Pat for report & photo.)
29th August 2015:
 Tingewick & Water Stratford Horticultural Society held its 91st Annual Summer Show.  The lovely summer's day encouraged a very high number of visitors to the Show, where flowers, vegetables, fruits, flower arrangements, photographs, handicrafts and domestic produce
were exhibited in the various classes.  As 2015 is the Year of the Sunflower, many classes had a Sunflower theme and different sized yellow and orange Sunflower decorations made a colourful display.  Local children aged two to eleven entered various junior classes producing more than seventy exhibits in all.  As well as the exhibits visitors could also peruse a display of old horticultural and agricultural machinery and visit stalls selling plants, cards, honey products and books.  They could also try their luck in a raffle and tombola and finish the afternoon with tea and delicious home made cakes.  Many thanks must go to everyone who helped on the day, exhibitors, judges and sponsors and everyone who very generously donated raffle and tombola prizes.  
(Thanks to Barbara for report & photo.)
17th May 2015:  
In a record turnout for recent years, eighteen adults, two children and seven dogs took part in our annual
Rogation
walk, with another four adults joining us in church for the end of the 
service.  This year, instead of a round trip from the church, we started at Huntsmill Farm and 
followed footpaths and bridleways back to St Giles.  On the way we heard poems, bible 
readings 
and prayers, and Chris added historical and agricultural details concerning the fields that we walked through.  Few of us knew, for example, that Bear Brook owes its name to a dancing bear that used to appear at Buckingham Charter Fair and whose owner habitually camped by the brook during the Fair.  We also saw the remains of one of the many water-mills that once lined the Great Ouse and heard the poem that it inspired Chris to write.  After the service, by kind invitation of Chris and Fiona, we returned to Huntsmill for a delicious tea.  
(Thanks to Sarah for photo.)
11th April 2015:  
Tingewick & Water Stratford Horticultural Society held its 11th Annual Spring Show in Tingewick Village Hall.  The bout of warm weather prior to the Show meant exhibitors were able to
display a very colourful mix of both potted and cut spring flowers including daffodils, tulips, hyacinths and polyanthus.  With other classes for flower arranging, almost sixty photographic entries and thirty-four lovely drawings of a spring garden produced by local school children, there was plenty to see.  Visitors to the Show were also able to peruse various stalls, enjoy delicious home-made cakes and try their luck in a raffle.  At the end of the Show presentations were made to the winners in the various classes.  
(Thanks to Barbara for report & photo.)
15th March 2015:  A rarity in recent years saw two services at St Giles on the same day: the first attended by our youngest village resident at under one year old and the second by our oldest at over ninety.  Villagers and friends gathered in the morning to give thanks for mothering and to hold before God its joys and sorrows.  Pictures remain in the mind: children and adults in the chancel making posies as the congregation arrived; a two-year-old purposefully walking from front to back of the church clutching a posy to give his mummy; candles flickering after the service in memory of mothers no longer with us but whose love and influence live on.

In the evening we welcomed visitors from across the deanery and beyond, for a Lent Evensong focussing on St Aidan of Lindisfarne.  The benefice choir sang an introit and anthem and led the congregation in singing canticles, responses, psalm and rousing hymns.  After both services people lingered to enjoy refreshments and each other's company.

28th February 2015:  The Tingewick & Water Stratford Horticultural Society's 2015 Quiz & Supper was attended by 68 people. Committee members Linda and Naina provided a superb supper of Lasagne or Rice and Curry with salad and baguette. A licensed bar was available and there was a well supported raffle.  The ten quiz rounds on various subjects resulted in whispered discussion, whoops of delight at correct answers, moans at wrong answers and all round good fun.  The team in second place was presented with six half bottles of wine whilst the winning team took home six full size bottles. Many thanks to Carol and Terry who ran the quiz for us and to all those who gave us help on the evening.  (Thanks to Barbara for report.)
7th/8th February 2015:
  Tingewick & Water Stratford Horticultural Society was invited to have a stand at Buckingham Garden Centre's Potato Weekend.  Naina, the Society Treasurer and a keen cook, produced Potato & Pea Curry, Potato and Pepper Curry and Potato & Cauliflower Curry for visitors to the stand to sample.  Copies of the recipes for all the curries were available to take away and comments received confirmed they were all absolutely delicious.  There was also a large display of 
photographs taken at the Society's 90th Anniversary Gala Dinner the previous September, photograph albums showing some of the many events the Society has organised over the years and information about becoming a member of the Society.  Committee members and friends manning the stand were able to recruit some new members and meet representatives of other gardening clubs and organisations.  
(Thanks to Barbara for report.)
18th January 2015:
  Motorists driving through Water Stratford may have been surprised to see our robed Rector and her congregation standing at the edge of the churchyard admiring a teleporter, there to be blessed as a representative of all ploughs and farm machinery.  Back in church, a bowl of soil was also blessed, as we thought of earth's power to nurture new growth and prayed for a good outcome for the labour of farmers, gardeners and all who work the land.  These were part of our 
Plough Sunday
celebration
. 
21st December 2014:
  Usually only the Rogation service takes the church around the village but this year we attempted the same with the Carol service.  New nativity figures were purchased and distributed to various houses in advance.  We started the service at the top of the village and walked down to the church, collecting figures and singing carols en route.  On arrival in church the figures were placed in the crib and, after a final carol, we enjoyed mulled wine and mince pies.
5th December 2014:
Twenty seven ladies went home with beautifully decorated Christmas w
reaths following a demonstration and workshop
organised by Tingewick & Water Stratford Horticultural Society. Mulled 
wine and homemade mince pies added to the festive occasion which 
concluded with a raffle.  
(Thanks to Barbara for report & photo.)
9th November 2014:  
Church attendances have tended to fall all over the country in recent years and Water Stratford has not escaped that trend, but our village Remembrance Service has been an 
exception.  Twenty adults and three children joined in remembering the fallen, especially, in this centenary year,
the six from our village who died in World War I
.  During the Act of
Remembrance six crosses were 'planted' in front of the altar by the two youngest members of the congregation.  The text of the service can be found
here
. 
We have a long tradition of using secular poetry and prose in our services and this year included possibly our longest poetic extract so far.  John Masefield's
August 1914
expresses so well the impact of the war on the young men of a rural community like ours, most of them agricultural workers who had scarcely left the county before.
13th September 2014:  The Parish Meeting committee organised a Treasure Hunt and Hog Roast to raise funds for The Old School, which serves as a village hall.  Teams followed clues in the form of rhyming couplets which led them to the locations of fifteen questions about the village and its surroundings.  The clues and questions were designed to make people look at places and objects that they may not have studied in detail before.  After the marking and debriefing, prizes were awarded to the two top teams, and the raffle was drawn.  More people arrived for the excellent hog roast and puddings, and the whole event raised over £400.
6th September 2014:  
Founded in 1924, the Tingewick & Water Stratford Horticultural Society celebrated its 90th Anniversary with a 1920s themed Gala Evening.  Tingewick Village Hall was transformed with images of flapper girls and gangsters, a Speakeasy and dining tables set up with a black & white
colour scheme and individual lighting.  Seventy guests enjoyed a four course meal, drinks and music from the Gershwin Gang. Guests entered into the spirit of the evening with many ladies dressed as Flappers and gentlemen dressed as Gangsters.
Barbara Prideaux, Chairman, thanked everyone for their support over many years and Will Litt, Vice President, proposed a toast to the continued success of the society. A celebration cake was cut and some superb raffle prizes kindly donated by local businesses were on offer.  After the formalities music and dancing continued until midnight. The evening was considered a great success and a wonderful way to celebrate this special anniversary.  
(
Thanks to Barbara for the report & photo.)
23rd August 2014:  
Tingewick & Water Stratford Horticultural Society held another successful 
Summer Show.  W
ith over 360 exhibits across the various classes plus nearly 100 entries in the junior classes 
there was plenty for visitors to the Show to admire.  There were some beautiful flowers and amazing 
vegetables and the handicraft, domestic and photographic classes were very well supported this year.  
Visitors could also see a display of old agricultural equipment, peruse stalls selling plants, second hand 
books and local honey and see beautifully decorated cakes.  A raffle, tombola and guess the name of the 
Teddy competition added to the enjoyment with delicious home-made refreshments also available.  (
Thanks to Barbara for report & photo.)
18th May 2014:  
Eleven adults, two children and four dogs ambled around our beautiful village, pausing for a bible reading and prayer at a field, the river, sheep, cows and horses, a tree, a garden,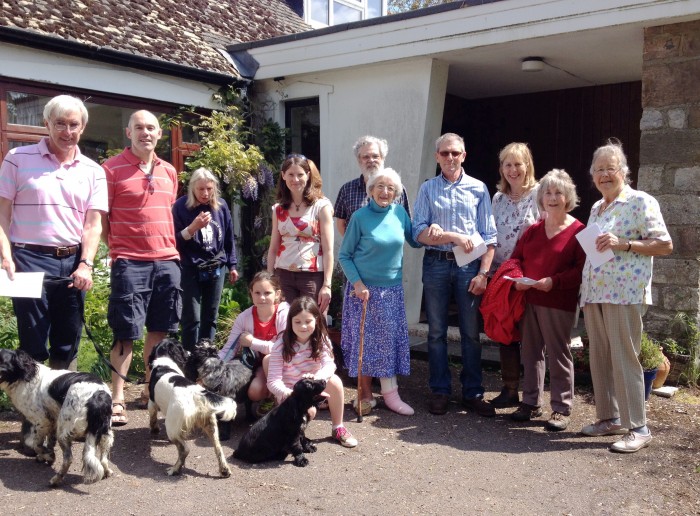 and the churchyard, where we also gave thanks for the new wall and gate.  This was our annual
Rogation
service and walk, though it is noticeably more of a stroll these days, as some of us are starting to feel our age!
 Rogation should, s
trictly speaking, 
be celebrated on the Sunday before Ascension Day but, as this depends on the date of Easter, we find it better to standardise on the third Sunday in May when the countryside is at its best and there is a reasonable prospect of good weather.  This year the weather was perfect but it is not many years ago that torrential rain forced us to stay inside the church for almost the entire service, thus rather missing its point.  (Thanks to Revd Liz for photo.)
12th April 
2014:  Tingewick & Water Stratford Horticultural Society's Spring Show was held in Tingewick Village Hall.  (Thanks to Barbara for photos.)
29th September 2013:  Wheat sheaves and Michaelmas daisies in the chancel; fruits, seed-heads and colourful Autumn flowers in the nave: Harvest was rightly celebrated in a thankful service at St Giles Church.  Members of the congregation presented symbolic gifts at the altar: soil, fruits, seeds, water, bread and wine.  The talk, and a selection of short Bible passages incorporated within it, made us think about a bountiful Creator, and how we should respond with generosity towards others. 
21st September 2013:  
Tingewick & Water Stratford Horticultural Society had a stand at Buckingham Garden Centre's Apple and Chilli weekend.  Committee member Naina had made six different chutneys which visitors to the stand could taste and buy.  Made from Naina's own recipes, the chutneys
 – 
Chilli Beetroot, Chilli, Apple & Ginger, Apple & Onion, Chilli Tomato, Chilli Pineapple and Tomato & Apple – all went down a treat and were totally sold out.  Information about the type of events organised by the Society and the discounts available to members was also on hand, together with photo albums showing images of Spring and Summer Shows and other events from bygone days to the present.  
(Thanks to 
Barbara for report.)
20th September 2013:  The Parish Meeting Committee organised a Quiz Night in the Old School. Nine rounds of questions were tackled by six teams of up to six members whose ages ranged from under 10 to over 90.  In the 'Name that tune' round, those who recognised Chattanooga Choo Choo were very glad of the young people's help with Lady Gaga!  An excellent fish and chip supper was delivered halfway through, and much of the liquid refreshment was financed by the remains of the village Diamond Jubilee funds.  The scores were very close, with a tie-break needed to establish the winners.  Well done to the organisers, and to Terry and Carol for running the quiz with humour and efficiency and setting questions that were so well suited to those present.
24th August 2013:  
Tingewick & Water Stratford Horticultural Society held its 89th Annual Summer Show.  With over 30 exhibitors, some showing for the first time, visitors to the Show were able to view over 350 exhibits in the various adult classes plus 40 junior exhibits.  There were some impressive displays of flowers particularly in the dahlia classes and the entries in the vegetable classes proved exhibitors really did know their onions.  Mouthwatering cakes, quiches, jams and chutneys were entered in the domestic classes whilst the handicraft section allowed exhibitors to show off their skills in patchwork, knitting, crochet and jewellery design.
The flower arranging classes gave people the chance to show their creative side with colourful arrangements in different shapes and sizes and the photography exhibits included some beautiful images.  
The very well-attended Show also included various stalls, tombola, raffle, guess the name of the Teddy Bear, and refreshments.  The Show ended with the presentation of Cups, Medals and Best Exhibit Certificates to the winners by the Society President. 
(Thanks to 
Barbara for report & photos.)
16th September 2012:  In the 
Village
 Duck Race, 
hundreds
 of yellow plastic ducks braved the waters of the Great Ouse.  There were also children's sports and a tug-of-war across the river.  This event has taken place for many years.
4th June 2012: The village celebrated the Queen's Diamond Jubilee with lunch in the main street, sports at The Manor, tea at the Old School, and lots of red, white and blue hats!
            (Thanks to Susan & 
Barbara for photos.)
5th October 2009:  The church was closed for re-roofing and restoration.  Services took place in the Old School and the church reopened with the Carol Service on 20th December 2009.  Our Carols were accompanied by a wind band comprising the Rector and five villagers.
7th June 2008
:  The Bishop of Buckingham dedicated a memorial to John 
Mason on the west wall of the church.
About seventy people attended the 
Commemoration Service
, in which they sang three of 
Mason's hymns
 and listened to historical information about Mason's life and work and an interesting sermon from Bishop Alan.
3rd June 2002:  We celebrated the Queen's Golden Jubilee with a street party.
12th July 1919: The Water Stratford estate was auctioned in separate lots at the Swan and Castle Hotel in Buckingham and several tenant farmers and others took the opportunity to buy their freehold.